Audio Content Recognition System
---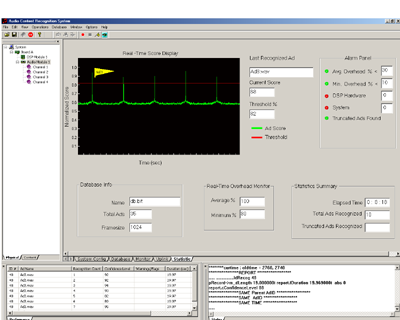 Audio Content Recognition System GUI,
waveform diagnostic display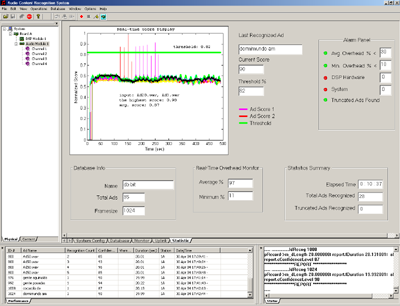 Audio Content Recognition System GUI,
statistics screen view
Overview
The Audio Content Recognition System performs automatic recognition of audio content from analog or digital file sources. Application examples include advertisement tracking and recording, music (song) recognition, and copyright infringement detection. Content sources can be analog, for example radio or television inputs, digital, for example network (ethernet), telephony, high-speed serial connections, or file based formats such as WAV, MP3, etc.
The system uses perceptual processing algorithms accelerated by a CIM array card. Currently a CIM card is required; the card provides the license for the software. Although this is an upfront cost, it allows Signalogic to provide the ACRS without ongoing licensing fees or other royalties required.
Both Linux and Windows GUIs are provided to monitor the system's performance on the host machine and to monitor communication with remote clients.
Real-time operation is supported for up to 32 simultaneous source, depending on database size and complexity. Non-real-time operation is supported with larger databases.
Feature Summary
High-Performance -- uses the CIM array card to offload processing load from the server CPU, allowing high capacity, concurrent multichannel processing
Content based algorithm - independent of filename, labeling, transmission format. Resistant to noise, watermarking, repeated MP3 or other compression, etc.
Database items may be added via user-provided sources, or added automatically based on repetitive pattern detection (minimum 3 occurrences)
Real-time operation supported up to 32 concurrent sources per CIM card with active database limited to 512 items
Detection of content impairments including truncation, time compression/expansion (up to 3%), editing/excerpting, and others
Supports internet broadcast monitoring
Supports airwave broadcast monitoring using Audio Science FM tuner cards