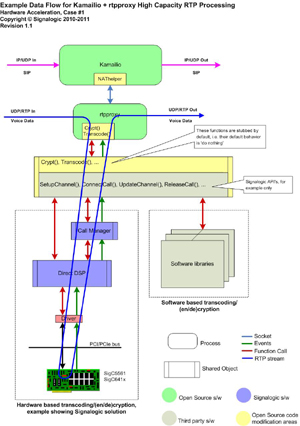 SigIMS Data Flow Diagram,
Hardware Accelerator Mode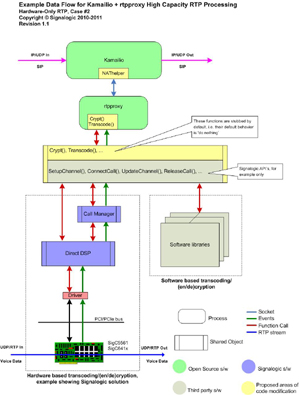 SigIMS Data Flow Diagram,
Hardware RTP Streaming Mode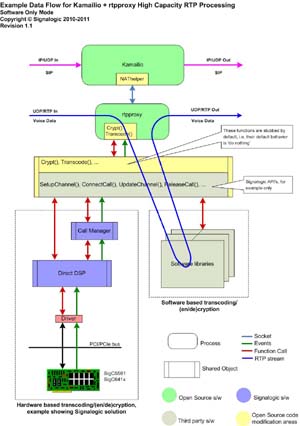 SigIMS Data Flow Diagram,
Software Only Mode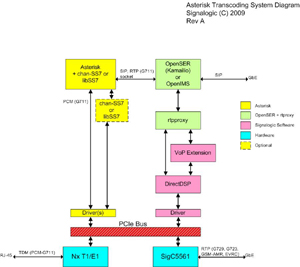 Asterisk Software Architecture Diagram
SigIMS IMS Platform
---
Overview
The SigIMS platform is a configurable, multi-server based system that supports the following functionality:
For high channel capacity, SigIMS applications can be enabled with Texas Instruments VoIP device hardware, such as the
SigC5561-PCIe card.
SigIMS includes one or more of the following software components:
Kamailio (formerly called OpenSER)
Signalogic software, including DirectDSP and modifications to Kamailio and rtpproxy
Asterisk1
pjsip 2
SigIMS may also include one or more of the following hardware components:
Applications
Session Border Controller (SBC) and Media Resource Functions
SigIMS platform SBC and media resource features include:
software-based transcoding, including including G729, GSM-AMR, EVRC, iLBC, G726, G711 App1 , G723, CVSD, MELPe
software-based encryption and header compression
hardware-based transcoding (SigC5561 and SigC641x cards), including G729, GSM-AMR, EVRC, iLBC, G711 App1
hardware-based encryption and header compression
hardware-based echo cancellation (up to 128 msec)
"per route transcoding", with routes specified config files
"on-demand transcoding", where endpoints not capable of certain transcoding types are made to appear so; i.e. transparent transcoding
Tones and announcements
RTP time-out and tear-down
Codec enforcement
Conferencing
Conferencing is supported both in software-only and hardware acceleration modes. The
SigC641x-PCIe card
supports voice conferencing, ranging from 680 3-node conferences up to one 2048 node conference.
PSTN Interfaces
PSTN interfaces are supported one of two ways:
Hardware Based Transcoding
The SigC5561-PCIe card
Encryption
Interoperability Tests
SigIMS has been tested with the following software and mobile client components:
ALOE Systems softswitches
various smart phones running pjsip, including Nokia C3, C1-01, C3, C5, C5-03, C6-01, E7-00, E63, E65, E71, E72, N8, N93, N95, X3, X6 16GB, 1661, 2330, 2680, 2730, 3710, 5320, 5530, 6350, 7020
Carriers tested include:
Advantages
Some of the SigIMS advantages:
Linux server oriented. Proprietary hardware avoided when possible
by supporting both "software-only" mode and hardware acceleration mode, no API changes are required when adding (or subtracting) acceleration hardware. The same APIs are used in both cases -- for example, the DSAssignPlatform() API which has options for x86, ARM, and Signalogic accelerator cards
Free software only versions available
Several levels of tech support are available, including monthly and annual, with well-defined Minor, Major, and Critical response actions
How to Purchase
NOTES
1
Asterisk
is an open source B2BUA.
2
pjsip
is an open source mobile client with SIP and RTP interfaces, supporting Nokia phones, HTC phones (Android), and iPhone.