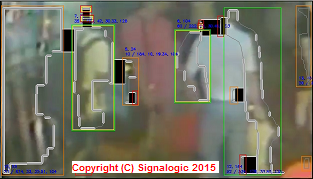 Vidilant™ suspect detection software tracking two subjects simultaneously
in real-time, one with a backpack and one carrying a bag. In the screen grab
above, analysis mode is enabled (tracked objects are marked with green and
some statistics are printed). Note the poor quality of the original CCTV
footage, and the algorithm's ability to deal with that
Surveillance Video Tracking and Detection (Suspect Tracking and Detection)
---
Feature Overview

Tracks multiple subjects concurrently, detects "left behind objects", backpack separation and removal, and carried objects Compensates for camera movement, jitter, blurry or other poor quality video Live feed, real-time operation; operator notification is instantaneous Supports multiple concurrent video streams / camera feeds using an accelerator card option. With the accelerator option, one server can support up to 256 concurrent real-time SD streams, or 64 HD streams Video can be b/w or color, frame rate from 5 to 50 fps, resolution up to 1080p. Interfaces to existing CCTV and IPTV systems and supports widely used compressed video formats (e.g. H.264). H.265 is also supported (but requires system-specific configuration; please inquire) Provides audible and visual alarms, video annotation, log files with frame markers, and optional recorded event segments. An "analysis mode" is provided for troubleshooting and quality control Underlying algorithms can be modified or enhanced per application specific requirements
Product Info
| | |
| --- | --- |
| Signalogic Part # | DHSIG-CIM32-PCIe / DHSIG-CIM64-PCIe |
| System Manufacturer | Signalogic |
| Description | Vidilant™ Suspect Tracking and Detection Software |
| Product Categories | HPC (High Performance Computing), Algorithms |
| Product Status | New Introduction |
Default tab content (this text) shown when (i) no tabs are automatically selected, or (ii) if rel value for the tab ="#default".
Availability
Stock: 0
On Order: 0
Factory Lead-Time: 8 weeks
Pricing (USD)
Qty 1: 4500 MOQ: 1 †

Promotions
Current Promotions: None
Product Description
The Vidilant™ system targets live feed, real-time applications that require a high degree of concurrency. The system is based on high performance servers configured with one or more of the supported accelerator cards (listed above). Server examples include HP DL380 series, Dell R7xx, or Supermicro 6016GT or 1028Gx series. The accelerators contain multicore CPUs (
not
GPUs) and their own NICs to allow high bandwidth, low latency connection directly to video streams and camera feeds. Product options include software only, software and accelerator cards, and complete systems with fully configured servers.
Applications
The Vidilant™ system's combination of robust, real-time algorithms and HPC server configuration (including accelerator card option) allows effective, real-world applications that need 100s or 1000s of cameras. Applications include:
CCTV and IPTV systems of any type
Public venues and public transportation
Retail areas
Sporting and music events and other large gatherings
At the same time, since the Vidilant™ system is
not GPU based
, it's scalable to small form-factors requiring low SWaP (low size, weight and power consumption), using small x86 based servers and reduced size accelerator cards (an example shown
here
). Small form-factor applications include:
Remote vehicles
Avionics
Smart cars
Related Applications
For other, related applications, the Vidilant™ system may also be configured with appropriate real-time algorithms, including:
Computer vision (robotics, smart vehicles)
Object avoidance
Face recognition
How to Get a Quote
Enter the fields shown above, including:
Required Number of concurrent Video Feeds
Required Number of VMs
Max Frame rate
Max Resolution
Product Configuration
Then click on "Get Quote / Info" to receive pricing via e-mail.
Related Items
FFmpeg Acceleration: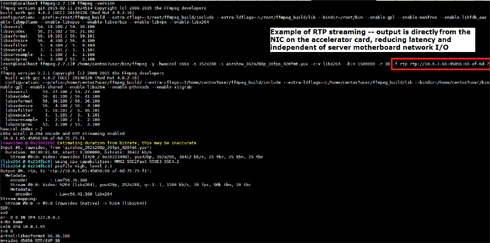 FFmpeg screen captures with c66x acceleration enabled
TI Wiki Links:
Tech Support
Signalogic's engineering staff designs, develops, maintains, operates, and tests software and hardware in the company's in-house lab, using servers from HP, Dell, Supermicro, Artesyn, Advantech, and others, and Linux installations including CentOS, Ubuntu, Red Hat, Wind River, Gentoo, and more. Streaming output is tested using Android and Microsoft Surface tablets with players including VLC, MPlayer, and others. Customers can submit technical questions via e-mail, phone, or Skype chat. Signalogic engineers are experts in server and embedded system development. Unlike retailers and distributors who offer analytics and video-related products, Signalogic can also perform contract development. Signalogic is a member of third-party programs for HP, Dell, Intel, and Texas Instruments. A high level of expert tech support is a distinct advantage when purchasing products from Signalogic.