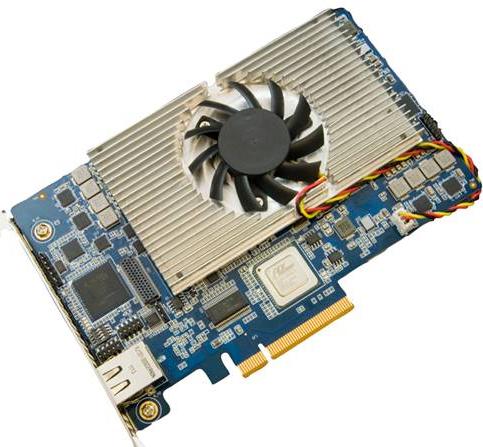 The Video Content Delivery card can perform video transcoding, transrating, broadcast, simulcast, and unicast. It has a direct 1GbE connection and supports IP/UDP/RTP protocol
Video Content Delivery PCIe Card
---
Product Information
| | |
| --- | --- |
| Signalogic Part # | DHSIG-CIM32-PCIe |
| Description | Video Content Delivery PCIe card for servers |
| Product Category | HPC (High Performance Computing) |
| Product Status | Preliminary |
Default tab content (this text) shown when (i) no tabs are automatically selected, or (ii) if rel value for the tab ="#default".
Availability
Stock: 0
On Order: 0
Factory Lead-Time: 8 weeks
Pricing (USD)
Qty 1: 2250
MOQ: 1
Promotions
Current Promotions: None
How to Purchase

Enter the fields shown above, including:

Codec type
Frame rate
Resolution
Qty -- number of cards required
Your discount category

Then click on "Get Quote" to receive pricing via e-mail.

Related Items
Overview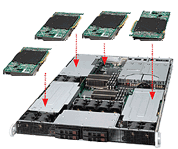 From four (4) to eight (8) VDC cards can be inserted into a 1U server, depending on the server motherboard and chassis design
The Video Content Delivery card (VDC card) provides high capacity video content processing for x86 based servers. The VDC card is a half-length, single-slot width, full-height card, which -- combined with the card's low power consumption of less than 50W -- allows up to 8 cards in a 1U server depending on the server motherboard, riser card, and chassis design. For example in Signalogic's lab, we are developing a video content delivery server that uses a Supermicro motherboard and chassis to run 4 cards (see picture at right). The VDC card provides both (i) basic API functions including video transcoding, conferencing, audio codecs, and encryption, and also (ii) user-defined functions implemented as OpenMP marked acceleration of arbitrary C/C++ source code sections. A list of supported functions is given below. The acceleration capability is supported by
CIM software
, which includes resource management to efficiently allocate API functions and concurrent threads to the 32 cores. Combining CIM acceleration with user-callable APIs gives the VDC card greater flexibility. Additional advantages of this approach include:
Compatibility with existing x86 implementations (i.e. avoiding time and expense of porting to an API based approach)
Reduced long-term maintenance
Open source standards compliance
From a programming perspective, viewing all cores in the server -- both x86 and CIM -- as similar; i.e. a truly heterogeneous CPU architecture. This avoids changes in standard Linux based code development and maintains consistent day-to-day build procedures
The 1 GbE network interface on the VDC card supports IP/UDP/RTP streaming and is visible to all 32 cores on the card. The VDC card is supported by
SigIMS software
, an extension of Kamailio (OpenSER) and rtpproxy.
Feature Summary
H.264, MPEG4, MPEG2 supported
Up to 120 channels CIF 30 fps
Up to 60 channels SD or 4CIF 30 fps (e.g. content delivery application)
Up to 4 channels HD 60 fps (e.g. Internet TV or other broadcast application)
Video conferencing
Audio codecs, echo cancellation, DTMF, and call progress
Encryption (RTP packet payload)
Video and audio channel recording and streaming to file (for example for lawful interception purposes)
IVR
RTP Timeout and Tear-down
Codec Enforcement
On-card 1 GbE interface, with software support for IP/UDP/RTP protocol
Supported by SigIMS software, an extension of Kamailio (OpenSER) and rtpproxy
Function and Acceleration Table
Function
Instances
per core 1
API or
OpenMP 2
H.264 CIF, 30 fps
4
B
H.264 SD (or 4CIF), 30 fps
2
B
NOTES
1
32 cores total for one card (8 cores per CPU, 4 CPUs per card). Number of cards in a server depends on several factors, including server enclosure / form-factor, type of PCIe slots, and power supply capacity.
2
A = API, O = OpenMP, B = Both
Tech Support
Signalogic's engineering staff maintains, operates, and tests the Video Content Delivery card in the company's in-house lab. Customers can submit technical questions via e-mail, phone, or Skype chat. Signalogic engineers are experts in server-based and embedded system development. Unlike retailers and distributors who offer video-related products, Signalogic performs contract development using video delivery devices, and uses these devices in the company's in-house labs on an everyday basis. Also Signalogic is a member of TI's third-party developer's program. This level of tech support is a distinct advantage of purchasing video content delivery products from Signalogic.