Hardware
---
Signalogic now engages in hardware design only with key business partners. Under
Legacy Hardware Platforms
below are listed a number of legacy embedded hardware types that Signalogic formerly designed, fabbed, and marketed. Note that PCIe is still an active category, for example adding c66x multicore CPUs to servers with PCIe cards (up to 384 c66x cores in a typical 2U server). More info on multicore PCIe cards is here:
coCPU™ PCIe Cards
c66x PCIe coCPU cards supply server horsepower. Each card has c66x 64 cores, takes up a single slot (unlike GPU boards that take 2 slots), has two (2) 1 GbE NICs, and draws about 120W. Up to 256 cores can be installed in a standard 1U server, and twice that many in suitable 1U or 2U servers. This is a lot of CPU cores, and aligns perfectly with emerging server architecture trends in deep learning, HPC, virtualization, DPDK, and high bandwidth network I/O, as well as multicore programming models such as OpenMP and OpenACC.
All cards are supported by DirectCore® software, a shared library module part of the SigSRF software SDK.
Off-the-Shelf Linux Servers
Servers and OS tested with c66x HPC solutions include:
Servers: HP DL380 G8 and G9, Dell R720 and R730, Supermicro 6016GT or 1028Gx series, others
Linux OS: Ubuntu 12.0, 14.04, CentOS 6.2, 7, 7.1, or Red Hat 7
(optional) KVM Hypervisor and QEMU system emulator (VMware support is possible)
Below are images showing c66x coCPU cards installed in Dell and HP servers. Unlike GPU boards, the cards are single-slot thickness, allowing full riser utilization. Below is a Dell R720 server with 16 x86 cores and two (2) c66x coCPU cards installed, or a total of 128 c66x cores (the x86 cores are supplied by two (2) Xeon E5-2670 CPUs rated at 2.6 GHz, and the c66x cores by eight (8) C6778 CPUs rated at 1.25 GHz):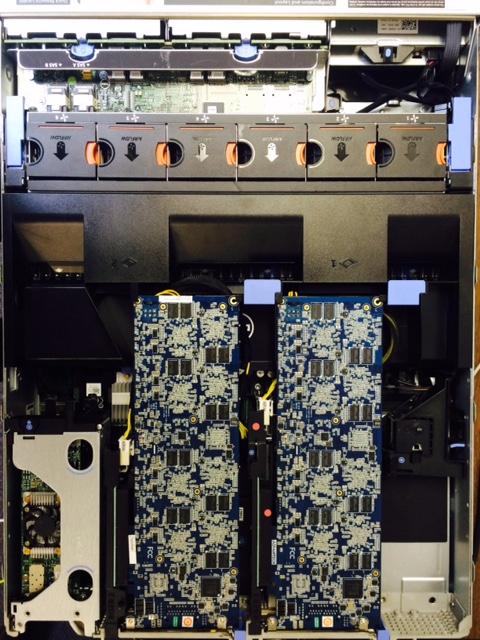 Below is an HP DL380 G9 server with 16 x86 cores and two (2) c66x coCPU cards installed, or a total of 128 c66x cores (the x86 cores are supplied by two (2) Xeon E5-2680v3 CPUs rated at 2.5 GHz, and the c66x cores by eight (8) C6778 CPUs rated at 1.25 GHz):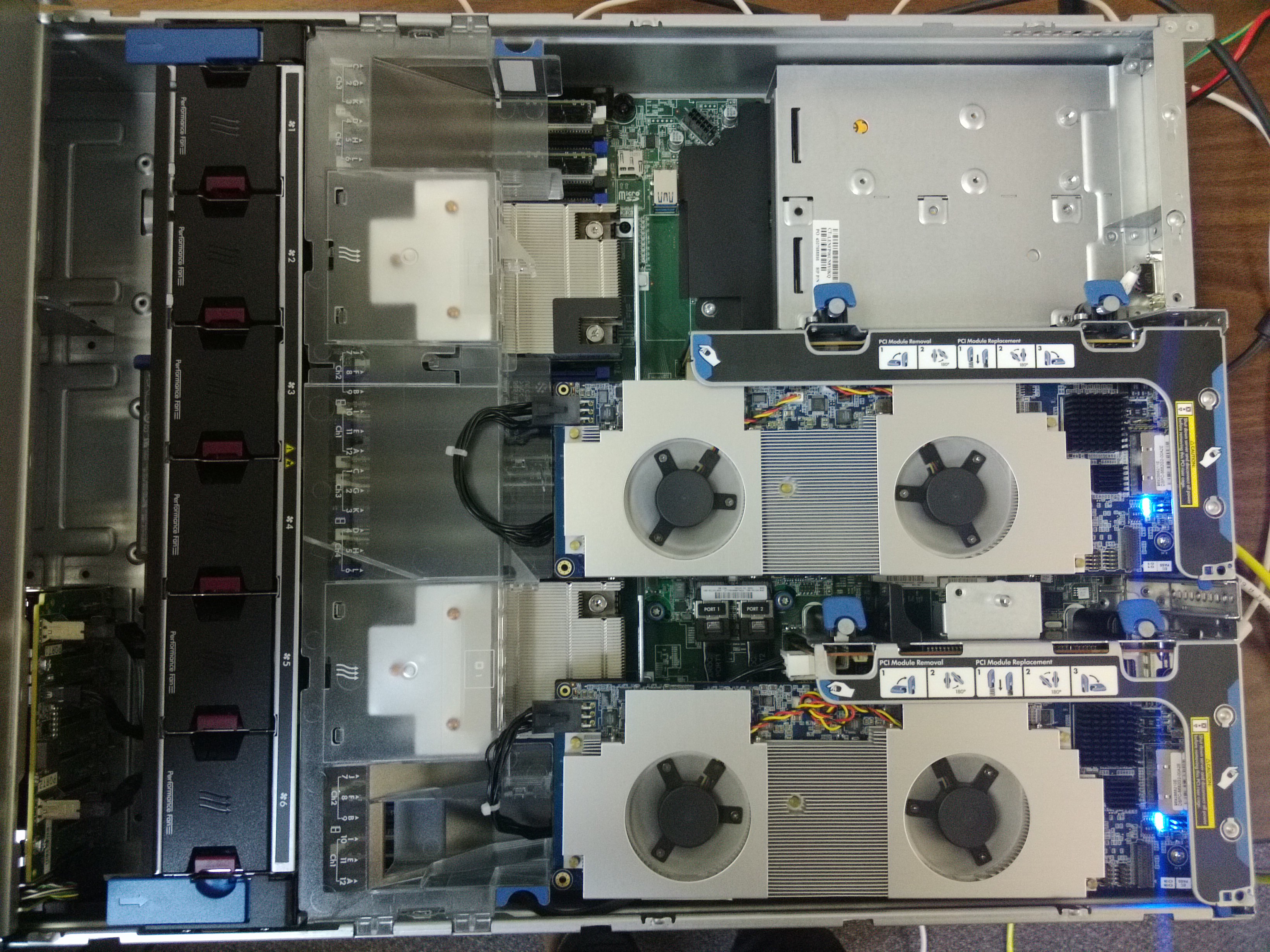 Legacy Hardware Platforms